Share a Link
Those you share this with will see the current array and settings. They will not be able to change the options above.
Help
Make a new rectangle
Change the size of the rectangle by entering whole numbers (up to 30) in the boxes. Then press the MAKE button.

Drag the sliders
Drag the slider handles to divide the rectangle into smaller parts.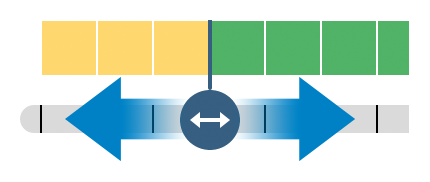 View partial products
Watch how the equation changes depending on the position of the sliders.

Show or hide answers
Toggle these buttons to show or hide the results of the equation.

The following are only found in the Educator Version:
Go to Options to change settings
Change the settings of the Partial Product Finder in the Options panel.
To Open the Options panel, select the Options tab or go there now.

Share the current rectangle and settings
To share the current rectangle and its settings, find Copy Link in the Options panel. go there now.

Note: the Options panel is not available in the shared version, so students can't change the settings.